Women are still being treated as the objects of enjoyment in the modern society. They are given a second class citizenship and tortured with physical mental and emotional abuse. The dowry prohibition Act has no significant impacts on our state. Sometimes the women are remove from their families and left in isolation. They are unable to move to the court of law on want of immediate food and shelter. The District of Nayagarh is in a horrible condition so far the situation of the traumatized women is concerned. It was a long cherished desire of SEVA to run a Short Stay Home at Nayagarh. Central Social Welfare Board, New-Delhi has been pleased to extend its financial support to establish a Short-Stay-Home at Naygarh.30 needy ladies and Girl\'s are staying in this Home with free lodging and Boarding.Seven children are there and they are provided free education. We are imparting vocational training like tailoring, ribbon flower making , lundry, kitchen garden and mushroom cultivation etc. for developing the socio-economic as well as self confidence within the inmates and by that they could emerge as self dependant.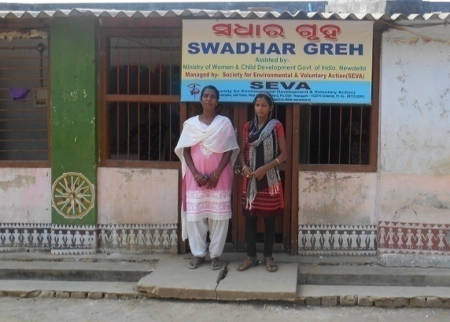 The Short Stay Home is now running in the name of SEVA Swadhar Greh with the financial assistance of Department of Women and Child Development & Mission Sakti, Govt. of Odisha
During the year 2018-2019, 51 Nos. of destitute women and girls benefited in this program, among whom 44 nos. were rehabilitated. The inmates were properly counseled and restored to their parental home/ matrimonial home.