We believe that Nayagarh is more back ward than KBK region as the KBK region has railway, irrigation industries and other indicator s of development who is the Nayagarh district does not have. Rolling Bidi is a major economic activity in some clusters of Nayagarh District where a family consisting of 4 to 5 members are rolling Bidi and earning 20 to 30 Rupees a day for the purpose of their livelihood. Absence of Food materials force the labour class people for consumption of non hygienic local made liquor to fill up their belly. The Development is far away from them. Gradually they become drug addict and creates hindrances in smooth functioning of their families. Keeping in mind the dangours of drug addiction and the detrimental effect of drug and alcohol as well as other contraband articles upon the social, economic and personal sphere of individual being Society For Environmental Development and Voluntary Action (SEVA) one of its premere project De-addiction Cum Rehabilitation Centre in the year 1998-1999 which is now functioning in the name of Integrated Rehabilitation Centre for Addicts (IRCA) With an objective to safeguard the interest of family & social atmosphere of the addicts, the centre launched its activities by affording intensive counseling as well as other curative treatment process.
Funded by Ministry of Social Justice and Empowerment, Department of Social Justice & Empowerment, Govt. of India, New Delhi, the IRCA has been providing indoor treatment facility to 15 addicts at a time since its establishment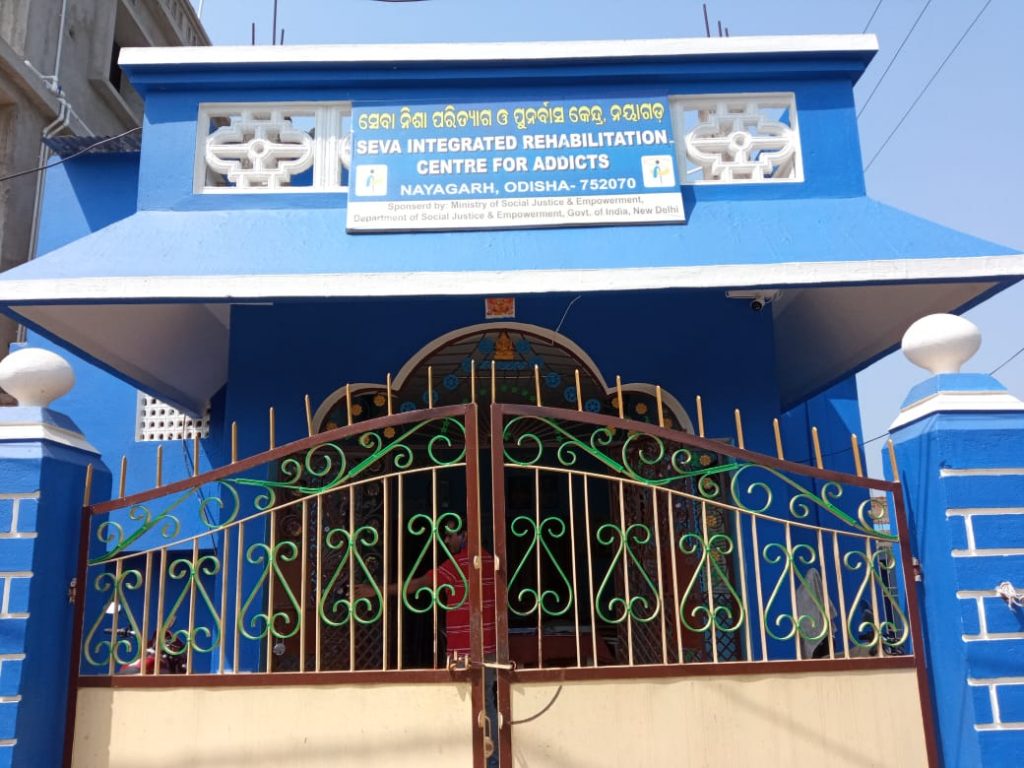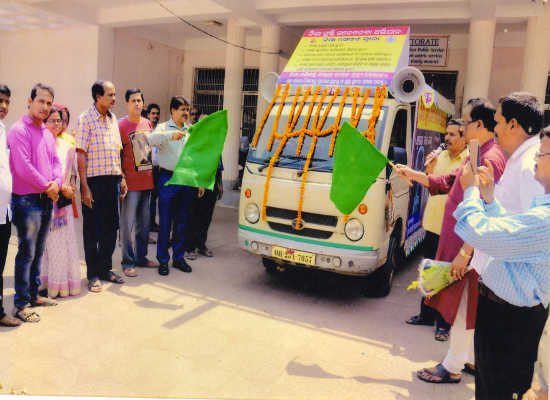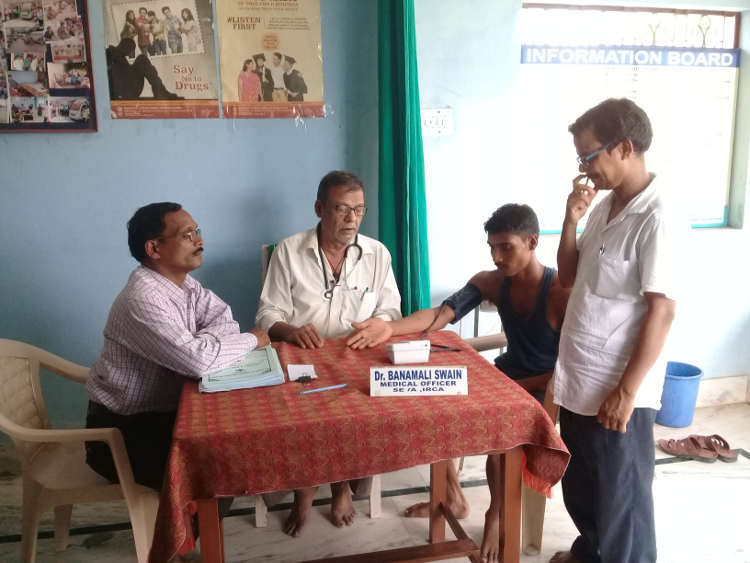 Out Door Service
In out door service the addict patients are duly registered and the case study history is collected. Physical tests and assessment are taken in to consideration before admitting him as a in door patient. In the year 2019-20 a total of 843 addicts are counseled as out door patients out of them 10 Persons were opium addicted, 13 numbers are brown sugar addicted, 523 persons are alcohol addicted, 279 persons are addict to Ganja and Bhanga, 18 persons are multi drug addicted and all of them became benefited from the centre.
In door Treatment
In the year 2019-2020, around 126 addicts are beneficiary as indoor patients. They have gone through intensive counseling by trained counselors and other curative measures by expert doctors and backed to the mainstream of social life.
Individual counseling, group counseling, Family Counselling, Yoga therapy, other humanitarian approach and re-educative sessions are the process are the key remedial procedure the addicts gone through for this complete recovery.
Awareness Generation Programme
The IRCA , SEVA is taking a massive awareness campaign with an objective to create sensation among the addicts, within their family, in community regarding the ill effects of drug and its detrimental effect upon the addicts physical and mental health and its dangerous economic repercussion leading towards antisocial activities, destructive attitude and immorality. The expert workers and resources persons of the centre has been trying vigorously to aware people in different locality.
In the year 2019-2020. Several awareness programme were conducted at Darpanarayanpur, Khamarsahi, K. Sikharpur, Manikagoda, Sarankul, Khalamada, Korada , Jayapur. Leaf lets and poster were pasted at different locations by the IRCA for catching attention of public regarding its works and activitie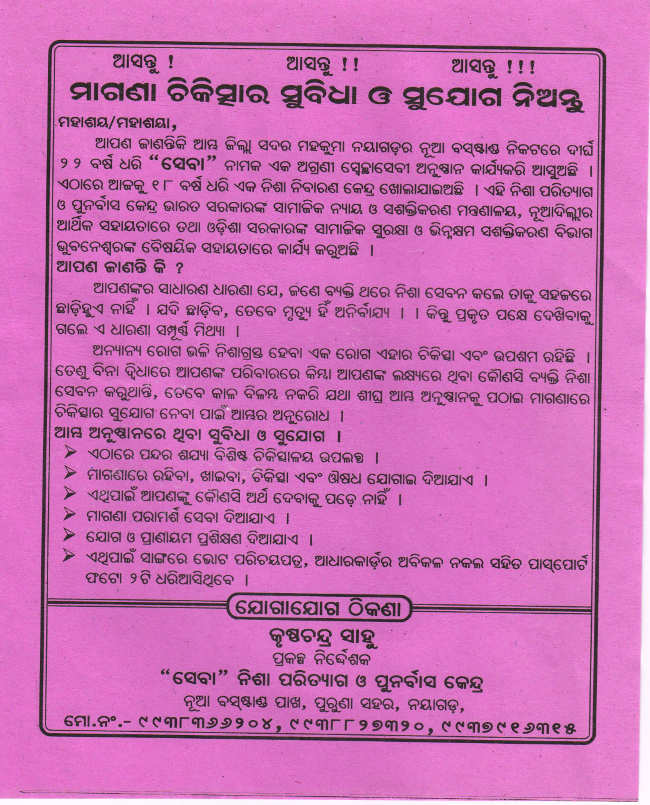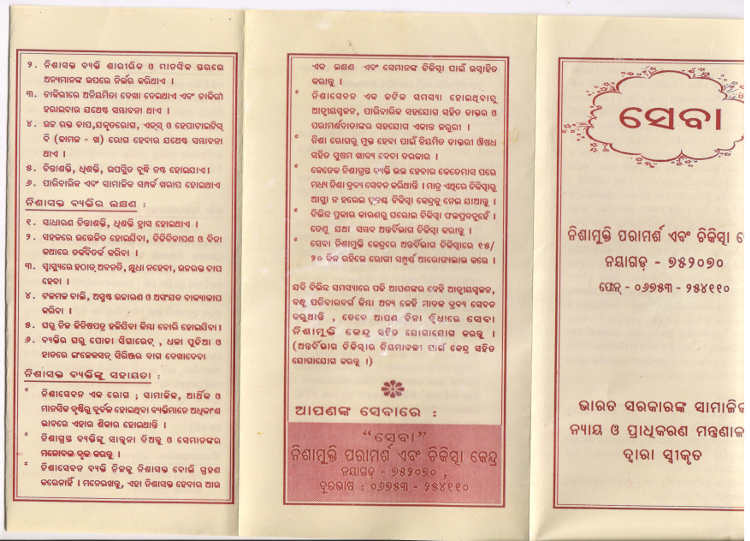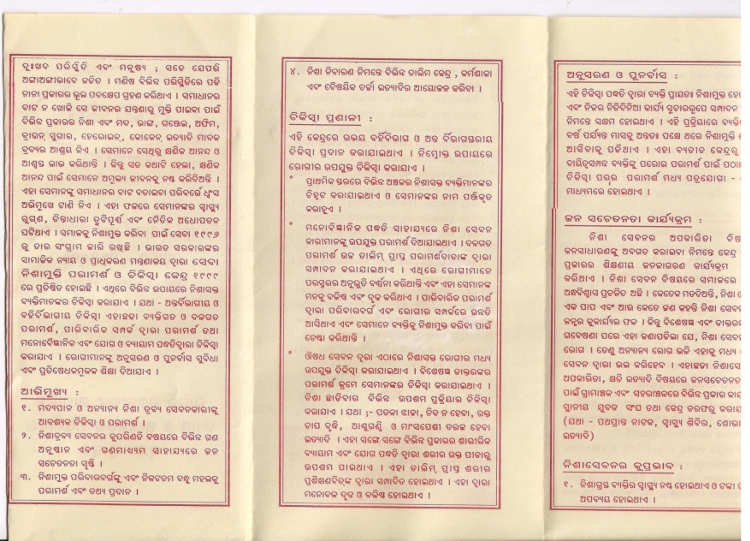 Regular follow up action has been taken by the centre. Once the client detoxified after completion of this treatment he used to come to the de-addiction centre once a week for three months and once in a fort night from 3 month to 6 months and only for once in a month from 9 month to 2 years for follow check up. During the period the clients health and mental conditions and phychological behavior are taken to paramount consideration.If the addict found relapse again he was admitted as indoor patients. Around 324 addicts has visited centre for follow up action.
The counselors/ Social Workers of the IRCA used to pay home visit to the addicts family after they discharged from the centre and counseled them & family members as per need.
To extend the helping hands towards de-addiction in the society and to bring the addicts to mainstream from the evil effect of addiction by ensuring expert counseling as well as other curative remedy and enabling all for a sound and worthful life is the motto of SEVA Integrated Rehabilitation Centre for Addicts. To develop a violence free atmosphere and happy family. Social life is the field of work and to create awareness in that direction is our destination.need.